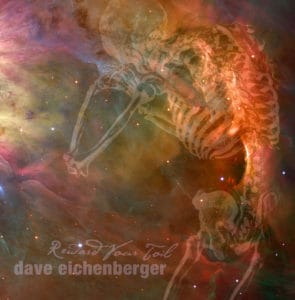 Reward Your Toil: Music to Quiet the Mind
This is a release I made that consists of 14 hours of music presented on a DVD. The DVD includes video, a recording blog, many pictures and details about the process of putting together such an expansive release. There are 14 one-hour pieces of music, with a few more mp3s thrown in the multimedia section.
The idea is to have an hour of sleep/meditation/relaxation music each day for 2 weeks, so no repeats. The music is performed on guitar, guitar synth, and loops, but I consciously avoided any kind of rhythms or repeating patters. The result is long, flowing passages without sharp transitions, and perfect for quiet times. A one-hour sampler was produced for those not ready to engage with 14 hours of music.
Personally, I've used music to help sleep in the past, but rhythms and transitions would be startling, so I decided to take those out.
The original DVD pressing is sold out, but I am looking at ways to digitally release at least the 14 hours of music as one package. Traditional online digital retailers are not quite equipped to deal with such a project!