Many loopers available allow you to switch between loops, so you can make an entire song over pre-recorded verse/chorus patterns.
This isn't the way I use loops though. While this idea might be fine for a 1 man band situation, or rehearsing ideas, it is the live manipulation of the loop which starts the creative process for me.
Record some sound, add more to it, slice it up into pieces while playing live over the loop, fade and repeat.
I need loopers at least capable of fading the loops with a foot pedal. Sadly, many manufacturers of looping devices just see looping as an afterthought for many devices. That, or, they focus on the 'backing track' idea, where you are jamming over static loops.
I need a little more control than that. Ideally, you can have a 'feedback' control on any looper. This allows the original loop to fade slowly while new material is played over it. The whole loop morphs into something new as we listen- which is a lot more interesting than listening to static loops.


I use an Oberheim Echoplex Digital Pro for this, which was the king of commercially available loopers, even before the current crop of looping pedals came out. The Echoplex allows you to record, reverse, slow down, sync, fade, multiply and split loops like nothing else currently out there. It is really an instrument in itself. I use this for all performances that are exclusively looping, since the manipulation of the recorded sound can be as subtle or as jarring as I want. The huge fault of the Echoplex is that it isn't stereo…so for stereo use, you need 2.
For other looping shows, I sometimes use a Line6 DL4. This green delay pedal is a fantasic basic looper, which allows expression pedal control over the loop volume, so I can fade the loops manually while playing live material overtop. I have owned the Line6 M13 as well, which duplicates the functionality of the DL4 and adds a bunch of effects as well. Since another project I am in uses in ear monitors though, I had to sell my M13 for a Line6 POD HD500 which includes all the effects of the M13 with added amp modeling.
Sadly, they didn't add any kind of expression pedal control to the HD500's looper volume (even though it was in the DL4 and M13) so  I can't recommend it as a live looping device for the looping musician. This continues to be a source of frustration, but I have been told it will be addressed in a firmware update. We'll see. (EDIT: It never was, despite promises. I don't buy any of Line6's higher-end effects any more). 
I have owned a Boss RC-2, which is great for working out ideas, but doesn't work for me as a live looping device because there is no way to fade the loop using your feet. It lacks a lot of control I need out of a looper.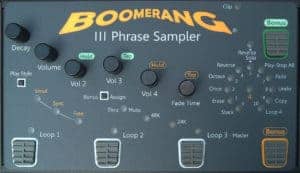 I am also using a Boomerang III as well. It has its own quirks, and I am still getting the hang of it. Copying a loop live (unrounded multiply in EDP-speak) is possible, but you don't hear the results immediately. It is stereo, and allows 3 unsynced loops to play at once, so for now, it is a cool alternative to owning a second Echoplex. Some of the functions are convoluted (it should use the loop buttons to go right into overdub and erase), and requires some odd compromises. The Boomerang is unlikely to have any further software updates, and currently the company is up for sale.
I'd love the idea of a stereo Echoplex, but right now, it isn't going to happen. Evoloop is currently vaporware, and the Looperlative LP1 is undergoing a redesign. The Looperlative might also be priced out of the range of most musicians at this point, as it is a 1 person operation.  
Below is a simple acoustic guitar loop from several years ago, with the Line6 DL4.